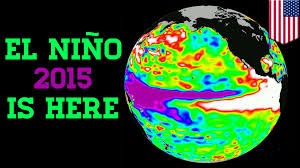 After El Niño conditions were declared in March and the Climate Prediction Center's forecast predicted El Niño's continued strengthening during the summer and fall, I think it is safe to say we are well within the time period where everything will be blamed on El Niño.
It rained on your wedding day? El Niño. Had an outdoor picnic ruined by a late afternoon thunderstorm? El Niño. Was it hot …during the summer? El Niño.
Blame It on El Niño has even developed into a board game.
A weather pattern partly linked with El Nino had turned winter upside-down across the U.S. during a week of heavy holiday travel,bringing spring-like warmth to the Northeast,risk of tornadoes in the South and so much snow across the West that even skiing slopes have been overwhelmed.
In a reversal of a typical Christmas, New York reached a toasty 70 degrees the day before Christmas with some New Yorkers actually sporting shorts and t-shirts.
But the sad truth of the matter is that the real culprit of this topsy-turvy nightmarish weather is not El Niño, but climate change. Although some people continue to deny its existence, climate change is wreaking havoc on the planet and because of ignorance, or just the need to create a scapegoat, many are blaming it on El Niño.
In an idealized world I would gladly implement a joint press conference for El Niño and Climate Change to present their difference to the world at large. But sometimes you can take a horse to water, but you can't make him drink.