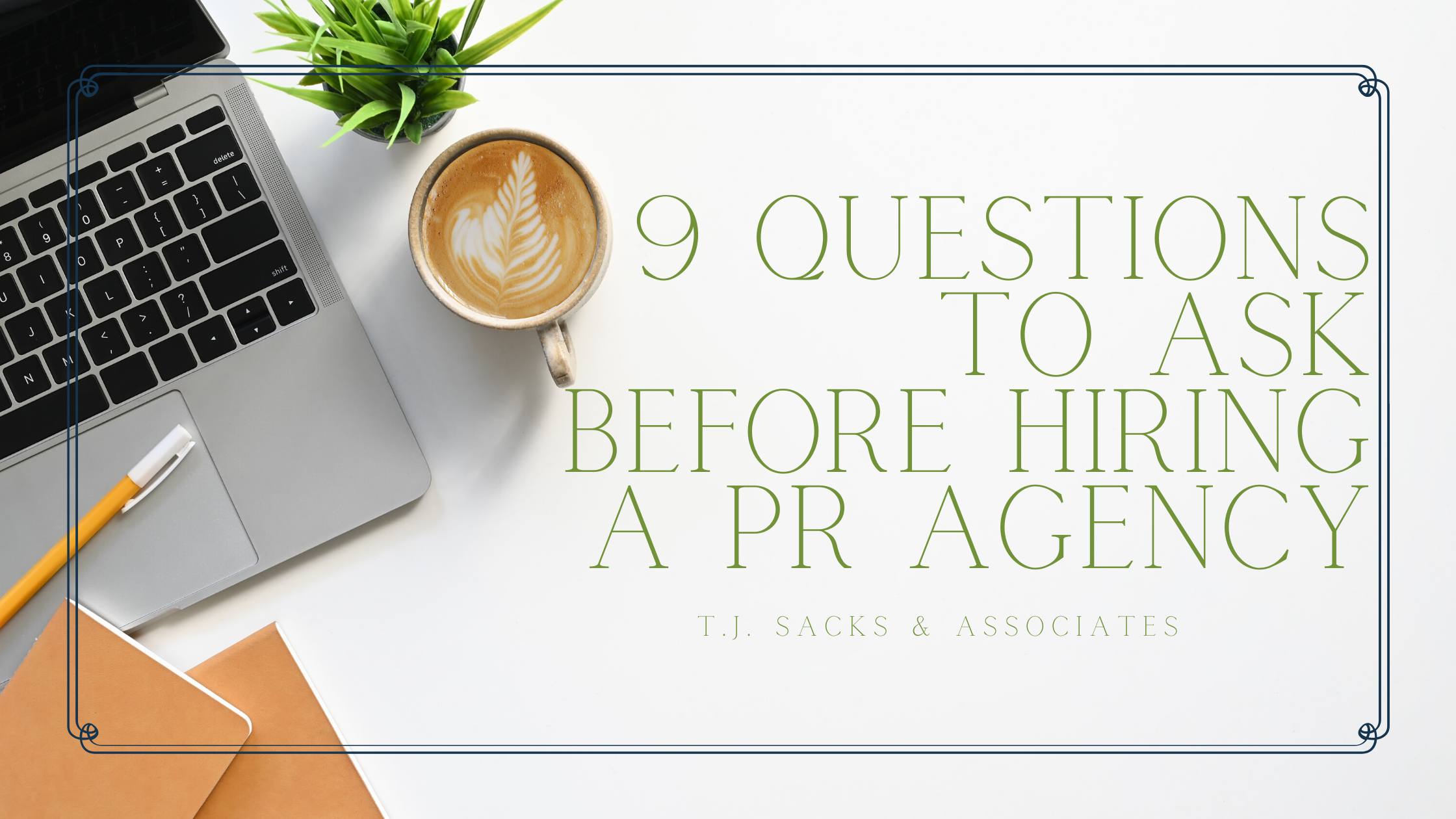 A successful PR campaign can help grow your business and gain awareness of your company. When considering a PR agency to hire, there are a few questions you want to ask to make sure they are a fit for you.
1. Have you worked on campaigns in my industry? You will get the most out of an agency if they have experience with your sector of business. You can ask for references from previous clients, and to see results from past campaigns. This can give you an idea of their industry capabilities.
2. Who is my direct contact/team members? You should know who you will be directly working with on your campaign. Ask who your contact person at the agency will be and who will be working with them. It is important to know your team and be comfortable with them, so they know what you want and what you expect from them.
3. Which media outlets are best for me? It is important for PR agencies to know who their client's target audience is, and for an agency to have experience in traditional and new media. The agency you select knows the outlets that will reach your audience the best. This can range from traditional media placements, such as television and newspapers to online promotions as well as social media outlets.
4. How will your agency measure success? Before hiring a PR agency, it is important to know how they measure success. The most common ways that agencies measure success with a client is through media placements, and social media analytics. Social media analytics can be social media page "likes", content reach, and follower interactivity. Another thing to consider when choosing how a firm will measure success is an increase in traffic to your website or increase in sales after a PR campaign
5. Will you provide media coaching? See what is being offered in terms of media coaching or training; this can be a valuable lesson to anyone who will be interviewed by the media. If the agency doesn't handle media coaching directly, ask if they refer you to for an experienced media coach.
6. Are you experienced on social media? Social media is an important tool to reach many of your stakeholders. It is essential that you find an agency that is well versed in social media, and the social media trends. You can ask to see results from social media campaigns or promotions from previous clients, to gauge if the agency has success promoting a company in your field.
7. How will you communicate with me? It is important that your PR agency communicate with you on a regular basis. Usually agencies will send a monthly status report detailing what they have done and where they have placed your business, however it is still important for them to touch base with you on a regular basis in order to maintain a pulse on your campaign. You can ask how often you will be updated on campaigns for your company, and how often the staff will be available to you. You should also make yourself available to your PR agency, in case they need a quote, or approval in a pinch.
 8. What type of contractual arrangement do you provide? Most New York-based public relations agencies require a minimum contractual arrangement, such as six months, or, in the case of a specific project, time will be allocated against the project.
9. What type of financial arrangements? Most agencies work on a monthly retainer basis with time worked against the hours of the retainer.