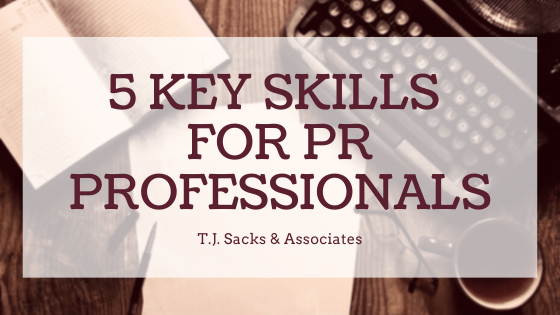 "Why do you want to go into public relations?" I queried.
"Because I'm good with people," she responded.
I have lost count on the number of times I have heard this response from the uninformed person who acknowledges that she/he wants to pursue a career in public relations. In order to succeed in the public relations industry, there are several basic skills that must be either honed or acquired. Here is a list of my top five:
Strong writing. It always surprises me when a newbie is unaware of the need for good writing skills.  In fact, that's probably the most important skill of all.  Employees have to be able to write to the media (via pitches and queries), write to the clients (status reports and updates) as well as their boss (weekly reports).  A well written media query will garner the attention that clients deserve.
Think like a reporter. I was fortunate to have gotten my first job as a news reporter, but most of those in public relations don't have that opportunity. It is a must to not only query the right media, but to read what they write so that you know how to approach them on relevant topics.  If the reporter covers the area of technology, you will surely be embarrassed if you contact her on behalf of your interior designer client.
Confident public speaking. I can't emphasize enough the need for students in marketing and public relations to take public speaking courses while in college.  This will prove to be invaluable the first time attending a new business meeting or facing down a client across a conference room.
Know your client's industry. I always tell my clients that "We work with you, not for you." The important differential here is that we know his business as well as if we were actually on staff working for him.  Learn to research the industry whether it's consumer products, finance or pharmaceuticals…and become an expert in that field.
The ability to just figure it out. A new project, like learning how to upload a client's blog to Facebook Instant Article, may seem daunting at first, but once done, will provide a new skill that can be brought on to other tasks.  Take the time to figure it out.  Remember, it's not brain surgery, and no one will die if done incorrectly.  But if done right, a new skill is added to the resume.